Summit is different in large part because of the collegiality. We've done away with hierarchy here, and it reflects... read more »
Lawrence C. Locker
Litigation Attorney
315 Fifth Avenue S, Suite 1000
Seattle WA 98104
206.676.7000
slg@summitlaw.com
©2019 Summit Law Group PLLC
website by efelle
Back
Jeffrey M. Feldman
Litigation, Environmental
(206) 676-7066
Profile Introduction
Jeff maintains an active trial and appellate practice, focusing on complex civil and criminal matters. He has substantial trial experience, before judges and juries, and has appeared as counsel and argued more than 75 appeals to the Alaska Supreme Court, Alaska Court of Appeals, Idaho Supreme Court, Ninth Circuit Court of Appeals, and Fifth Circuit Court of Appeals. Jeff's trial experience encompasses a broad range of matters, including environmental and antitrust cases, oil and gas disputes, constitutional claims, commercial and corporate litigation, and insurance and personal injury matters.
Jeff's criminal practice focuses on corporate and environmental matters. He has defended companies, corporate officers, and employees in most of the significant environmental matters prosecuted in Alaska, including the Exxon Valdez grounding, the prosecution of timber companies, passenger cruise ship operators, and airline operators for Clean Water Act and Clean Air Act violations, and state and federal environmental prosecutions of oil companies drilling on Alaska's North Slope. Jeff also has handled public corruption prosecutions, perjury cases, federal false statement and false claims charges, and Alaska's only impeachment inquiry.
Before joining Summit Law Group, Jeff was the founding partner at Feldman Orlansky & Sanders in Anchorage, Alaska. Jeff is also a Professor of Law at the University of Washington School of Law, has served as an instructor for the National Institute of Trial Advocacy, and is a frequent CLE lecturer.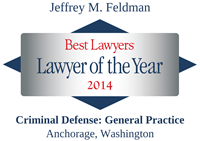 Representative Cases/Matters
State of Alaska v. BP Exploration (Alaska), Inc.: Lead trial counsel on behalf of BP in claims by State of Alaska arising out of 2006 oil spill on Alaska's North Slope.
In re: Acquisition by Lynden Inc. of Northland Transportation, Co.: Counsel for Lynden in connection with antitrust review of proposed acquisition. Acquisition obtained court approval.
In re Polar Bear Endangered Species Act Listing: Counsel for Arctic Slope Regional Corporation in connection with challenges to listing of polar bears as an endangered species. Position advanced by ASRC was adopted by the court.
United States v. BP Exploration (Alaska), Inc.: Lead trial counsel for BP in probation revocation proceedings initiated by the federal government. Following a two-week trial, government's petition to revoke probation was dismissed by the federal district court.
Alaskans for Fair Redistricting v. Parnell: Represented coalition of Alaska Native, environmental, and citizen groups challenging Alaska reapportionment plan.
Alaska Rent-A-Car v. Avis Budget Group: Successfully represented franchisee at trial and on appeal to the Ninth Circuit Court of Appeals and the U.S. Supreme Court in breach of contract claim against franchisor.
Law Project for Psychiatric Rights v. Walmart: Successfully represented Wal-Mart in trial court and on appeal before the Ninth Circuit Court of Appeals in case challenging sale of FDA approved medications for off-label use.
Kirk v. Carpenenti and Alaska Judicial Council: Successfully represented Chief Justice of Alaska Supreme Court and members of Alaska Judicial Council in trial court and on appeal to the Ninth Circuit Court of Appeals in case challenging Alaska's merit judicial selection system.
Alaska Communications System v. Crest: Represented telecommunications company in connection with breach of contract claim arising out of installation of subsea cable system.
Alakayak v. Trident Seafood Corporation: Trial counsel for Trident in four-month antitrust trial seeking more than $1 billion in damages. Jury verdict returned in favor of Trident.
Anchorage Chrysler Center, Inc. v. Daimler Chrysler Motor Car Co.: Successfully represented Daimler Chrysler at trial and on appeal in breach of contract claim brought by local dealer.
Publications & Speaking Engagements
Presenter, "Alaska State Court Appeals 101," Alaska Appellate Courts & Alaska Bar Association (2015)
"Survey of State Class Action Law," Chapter on Alaska Law (2006-2013 editions)
Presenter, "Appellate Strategies" (2012)
Presenter, "Civil Trial Practice" (2012)
Presenter, "Off the Record with the Court of Appeals" (2012)
Presenter, "Oral Argument Presentation" (2011)
Presenter, "Terrorism and Civil Liberties" (2011)
Presenter, "Off the Record with the Supreme Court" (2009)
Presenter, "Appellate Practice" (2008)
Presenter, "Litigating Constitutional Issues" (2008)
Presenter, "Media and Law - First Amendment and Fair Trade Problems" (2008)
Presenter, "Oral Argument Preparation" (2008)
Presenter, "Attorney Client Privilege" (2007)
Presenter, "Due Process" (2007)
Presenter, "Evidence" (2007)
Presenter, "Privacy" (2007)
Presenter, "Corporate Ethics and Problems" (2006)
"Justice Rabinowitz and Personal Freedom: Evolving a Constitutional Framework," 15 Duke-Alaska L. Rev. 1 (June 1998)
"Report of the Civil Justice Advisory Group for the United States District Court for the District of Alaska" (1991)
"Compelling Testimony In Alaska: The Coming Rejection of Use and Derivative Use Immunity," 3 Duke-Alaska L. Rev. 229 (1986)
"Certifying Professional Competence: The Alaska Experiment," 52 The Bar Examiner 4 (1983)
"The Fifth Amendment, Self-Incrimination and Foreign Prosecution: The Saga of the Ryuyo Maru," 11 U.C.L.A.-Alaska L. Rev. 119 (1982)
"Criminal Procedure In Alaska," 9 U.C.L.A.-Alaska L. Rev. 109 (1980)
"Search and Seizure In Alaska: A Comprehensive Review," 7 U.C.L.A.-Alaska L. Rev. 75 (1977)
"Pre-Trial Diversion of the Mentally Retarded Offender," Massachusetts Bar Association Report (1975)
Memberships
Professor of Law, University of Washington School of Law

Fellow of the American College of Trial Lawyers

Fellow of the American Academy of Appellate Lawyers

Woodrow Wilson Fellow

American Law Institute

American Board of Trial Advocates

American Judicature Society

National Association of Criminal Defense Lawyers

American Bar Association

Rhode Island Bar Association

Anchorage Bar Association

American Inns of Court

Alaska Supreme Court Standing Committee on Civil Rules (2006-present)

U.S. District of Alaska Magistrate Selection Panel (2006)

Chairman, Alaska Commission on Judicial Conduct (1992-2005)

President (1993-1996) & Member (1992-1998), Board of Governors, Alaska Academy of Trial Lawyers

President (1989-1990) & Member (1986-1992), Board of Governors, Alaska Bar Association

Alaska Governor's Gas Policy Council (2001-2002)

Alaska Governor's Task Force on Civil Liability Reform (1996)

Chairman, Alaska Supreme Court Standing Committee on Criminal Rules (1984-1989)

Reporter, Civil Justice Reform Act Advisory Panel for the United States District Court for the District of Alaska (1991-1994)

Alaska Supreme Court Rule of Law Committee (2001-present)

Alaska Supreme Court Committee on Criminal Pattern Jury Instructions (1979-1985)

Alaska Committee of Bar Examiners (1981-1986; 1995-1997)

Attorney Representative and Member, Judicial Screening & Evaluation Committee, Judicial Conference of the Ninth Circuit Court of Appeals (1983-1987)

Director of the National Council, Northeastern University, Boston, Massachusetts (1994-present)

Governor's Appointee, Alaska Humanities Forum Board (1995-1997)

President, Board of Directors, Family Connection (1979-1985)
Honors
Named in the Top Ten in Alaska Super Lawyers
Listed as Alaska Local Litigation Star in Benchmark Litigation (2013-2019)

Martindale-Hubbell AV Rated (Preeminent - 5.0 out of 5.0)
Alaska Bar Association Pro Bono Award (2013)
Alaska Bar Association Human Rights Award (2013) (for 10 years of work on Texas death penalty case)
ACLU 40 Heroes of Constitutional Issues Award (2011)
Named Lawyer of the Year for White-Collar Criminal Defense in Anchorage in The Best Lawyers in America (2011)

Planned Parenthood John Rader Award (2010) (for 15 years of work in defense of reproductive rights)
ACLU Public Service Award (2005 & 1993)
Alaska Bar Association Professionalism Award (1998)
United States District Court for the District of Alaska Public Service Award (1987 & 1985)
Education
Northeastern University (J.D., 1975; B.A., 1972, with honors)
Bar Admissions
Washington State

Alaska

Rhode Island

United States District Court for the Districts of Washington (Western), Alaska, Rhode Island, Texas, and District of Columbia

United States Court of Appeals for the Ninth Circuit

United States Court of Appeals for the Fifth Circuit

United States Supreme Court
Clerkships
Justice Edmond W. Burke, Alaska Supreme Court (1975-76)